GUDRUN JOHNSTON: Designer of the Month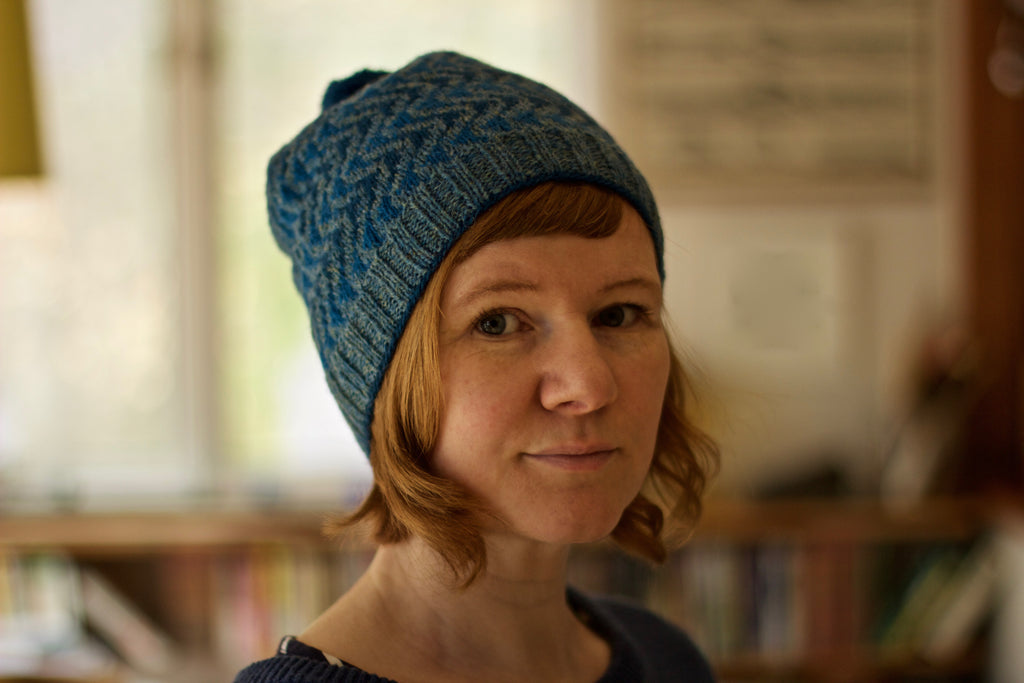 August is all about Gudrun! This lady has a stunning array of shawl and sweater designs…as well as other accessories. A selection of her designs will be on display in Ginger Twist Studio for the month, so pop by if you want to check them out in person. In the meantime, Gudrun has been kind enough to answer a few question, so read on!
Ginger Twist Studio: When and how did you come to learn to knit? What was the first thing you made?
Gudrun Johnston: I was taught to knit by a schoolteacher around the age of 10 I think. At that time I was living on the West Coast of Scotland on the Isle of Rum where I was one of two pupils in the school! The other pupil was my brother! I remember making a pastel green ribbed vest. Happy to say there is no photographic evidence of me in that vest! I then took a long hiatus from knitting and didn't do it again until about 13 years ago!
GTS: As a Scottish lady, would you say this has shaped what and how you design?
Gudrun: Absolutely! When I returned to knitting as an adult I was living in the US. Once I started to take steps into designing it felt only natural to look to my Shetland heritage for inspiration. As you can imagine that provided me a rich resource with which to play with. Shetland continues to be a huge part of my design aesthetic and I'm so grateful to have that connection.
GTS:Circular needles or straights?
Gudrun: Circular needles are absolutely my favoured choice! Coming from Shetland I feel I ought to be using a knitting belt and straight needles but it's not what I learned on so they feel alien to me!
GTS: Magic Loop or DPNs?
Gudrun: I love magic loop and basically never use dpns!
GTS: What are you working on knit-wise at the moment?
Gudrun: Well once I finish unpacking my house for the third summer in a row I will be getting stuck into a Shetland Trader Three collection. This one is a little different, as it will be based on my mother's designs from the 1970s. Some of the garments will be direct recreations of her designs some will be inspired by her work. I'm really excited about this collection!
GTS: Tea or coffee?
Gudrun: Coffee! I'm a terrible representation of a Brit!
GTS: Tell us something we might not know about you please.
Gudrun: I started my adult life at music college training as a classical singer.
GTS: And lastly, tell us about your Shetland knitting trips please!
Gudrun: With pleasure! Mary Jane Mucklestone and I run weeklong adventures in Shetland with groups of around 12 or 13 people. We stay in a beautiful location on the west side of Shetland and have the whole hotel to ourselves. We pack in as much as we can with a mixture of yarn based visits (Jamieson & Smith, Jamiesons and Uradale Yarns), walking (the best way to see some of the most scenic spots), classes and visits with local designers (Hazel Tindall, Ella Gordon, Niela Nell and Wilma Malcolmson to name a few) and of course time to hang out and knit together! The trips have been extremely successful and we are getting ready to open registration for our 5th year.